Studies Reveal Women Who Take a Mind/Body Course in Addition to Fertility Treatment Are Twice as Likely to Get Pregnant.
The power to create the perfect conditions for pregnancy lie within you, don't wait another month to learn the biggest mistakes women make when trying to get pregnant.  Once you understand what not to do, this course will take you step by step through the most powerful ways to support your body and prepare it for creating life.  These are the most important things you can do whether you're trying the old fashioned way or seeing a fertility doctor.  Fertility Within is like an insurance policy for pregnancy.
Here's What's Included
7 Sessions delivered to you each week in high quality MP3 format. Each session is about an hour long and is divided into 15 minute segments so you don't have to add one more "appointment" to your calendar.

7 Fertility Specific Meditation Downloads. Daily meditation has been shown to improve fertility as much as 50% and each of these meditations mirror the course so you can really integrate the practices.

Exclusive Membership to Our Private Virtual Classroom where you'll get access to the course session, meditation downloads and other bonus material any time day or night.

Worksheet downloads and handouts so you are fully supported as you integrate the practice you'll learn.
Each Session Introduces Different Relaxation Response Techniques That Build For Maximum Benefits
Session 1: Becoming Self Aware
As women, we are born with powerful wisdom in our bodies, and yet, for most of our lives we've been rewarded for developing the intellect of our minds. And while this "mind-set" has opened up the world to us in new and important ways, it has also cut us off from the innate wisdom in our bodies.
In session 1 you will learn how to identify when something is "off". This is the first step in knowing what you need to do. You will also learn a variety of instant "fixes" as well as daily practices that disrupt the harmful effects of stress on fertility.
Session 2: Getting Your Needs Met
When you become disconnected from your body, you tend to bypass your own needs. Women are programmed to meet the needs of those around us making it easy to put ourselves last. Not only does this pattern create chronic exhaustion but we also tend to be very hard on ourselves in the process.
Session 2 shows you how to connect with the part of you that want's to be a mother right now. You will begin to reconnect with the joy in your life and experience how much more rewarding it is when you give from a place of abundance versus depletion.
Session 3: Harnessing The Power of Anger
What would happen if you unleashed the darkest feelings you have about your infertility? Would you be abandoned and alone if anyone knew the truth about what you feel? Quite the contrary. The truth is, anger is a powerful catalyst for change. The key is learning how to express your anger in constructive ways so it doesn't become toxic to your body.
In session 3 you will connect with your anger in new ways, welcoming it by learning what it's trying to show you and releasing it in service to your own health and well-being.
Session 4: Transforming Your Thoughts
This is a great quote, "you don't have to believe everything you think." Nearly 90% of what you think isn't even true, yet we believe it is. Then we operate in life from these false assumptions creating a reality that mirrors the thoughts that aren't even true. It's truly crazy. The key to life is being able to make accurate meaning of what's happening. The only way to do that is to learn to challenge your thoughts.
In session 4 you'll get a foolproof way to identify these false beliefs and transform them into truths. Once you get clear about what's true, anything is possible.
Session 5: Connecting With Life
Inside the Mystery of Life, there are so many unknowns. Not knowing what the future holds is an incredible source of anxiety. The truth is, no one gets through this adventure unscathed, no matter how much money they have, how beautiful they are, or how brilliant they are. This is the very nature of life. We cannot grow without this pattern of breakdown followed by breakthrough. The trick is learning how to step into the "not-knowing" hopeful, clear about your vision, and unattached to outcome.
In session 5 you will receive a simple tool that is so powerful for manifesting your vision you will end up using it in all areas of your life.
Session 6: Power of Presence
If you've spent any time with children you know they are extremely good at focusing on what's happening now. Unfortunately something happens between childhood and adulthood that opens up the state of constant worry about the future and the past that we actually miss our life.
Session 6 gives you back your life. You will learn how to spend more time in the present moment, mindful of what's actually going on around you so you experience more joy and begin to really focus on what you can do right now to influence the future.
Session 7: Integration
All of the tools, techniques and practices you'll learn in this program are amazing and powerful, but if you don't continue to practice them, you'll slide right back to where you started. You need to a have structure for integrating the practices and principles into your life.
In Session 7, you'll learn how to integrate the Fertility Within program into your daily life. This simple, effective tool will support you in sticking with the practices until they become part of who you are.
Here's an Overview of What You'll Get
Self-Awareness Tools – Reconnect with your body in a loving way that promotes pregnancy

How to access your Inner "Mommy" Wisdom – Stop self-sabotaging behaviors so you can successfully navigate this journey

The Fertility Diet – Make a few small adjustments that have a big impact on your success

Healing Anger – Free your body from the toxic effects of anger

How to let go of the Past – So you can focus on what to do now to change your future

To Transform Inaccurate Thoughts – Release old beliefs so you can open yourself to unimagined possibility

Baby Friendly Habits – Integrate these practices and principals and get pregnant NOW!
This Will be The Best Investment You Make On Your Journey To Motherhood
(Or I'll Give Your a Full Refund)
Normally I charge $1250 for this course when I do it live and I have people all over the world who have gladly paid for it at that price. But I want it to be super accessible to every woman struggling to get pregnant; that's why I've created the course in this way and have priced it at only: $97.
Our guarantee makes this a totally risk free purchase
Our promise to you is, if you complete the course in a committed and conscious way, and if for any reason the product does not meet your expectations, email us at care@fertilitywithin.com within 90 days of your purchase for a full refund!
Don't Wait Another Month to Start Improving Your Chances of Getting Pregnant!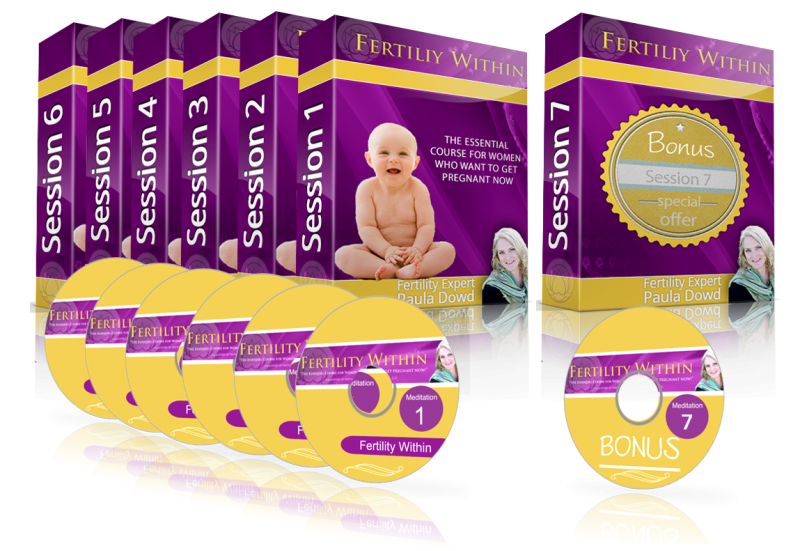 ENROLL NOW for only $97 and The Course Will Be Delivered To You Immediately!
Read what people are saying about Fertility Within
(this could be you):